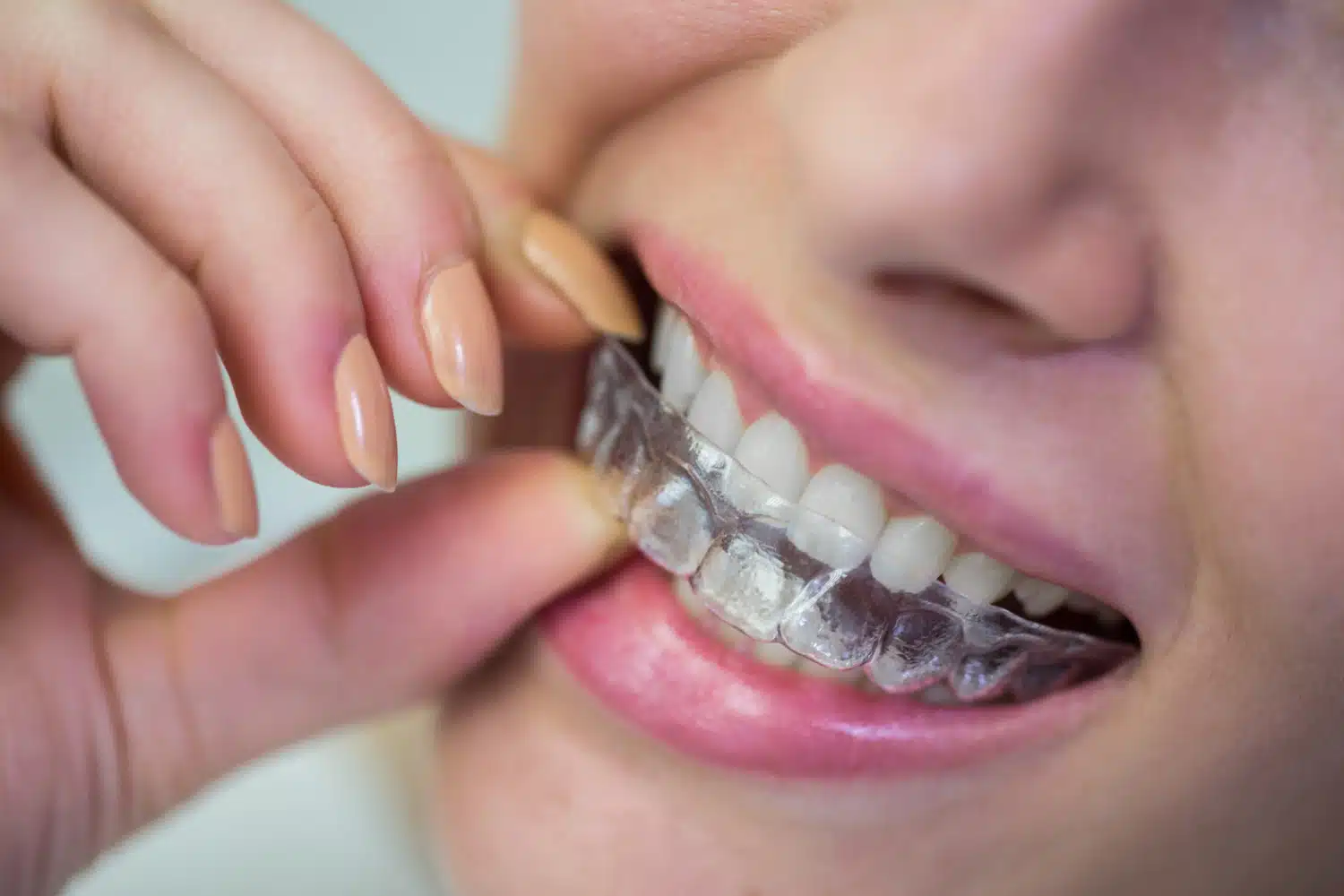 Invisalign vs. Smile Direct Club: 7 Important Comparisons
Clear aligners are one of the most popular alternatives to conventional metal braces. Invisalign and Smile Direct Club are two of the most well-known brands in the industry, and they work the same way to correct misaligned teeth. At North Shore Orthodontics, we provide high-quality treatment of Invisalign. But when choosing between the two, what are the Invisalign vs. Smile Direct Club differences?
What are Clear Aligners?
Clear aligners are thin, custom-made trays that fit snugly over the teeth and work to shift them into place gradually. Treatment with clear aligners begins with an assessment of the case, and your orthodontist will get a digital impression of your teeth.
Invisalign and Smile Direct Club use this impression to create a series of clear aligners based on your treatment plan. You will receive your aligners after they are ready, and you must wear them for 20 to 22 hours daily. You must change into a new pair of aligners every one or two weeks until you finish your treatment.
Since this treatment is mostly digital, you can even check out how your teeth would look after treatment. Then, you will need to wear Vivera retainers to ensure your teeth remain in their new position.
Invisalign vs. Smile Direct Club: 7 Important Comparisons
When looking at Invisalign vs. Smile Direct Club, both brands have created a name for themselves in the clear aligner industry. They offer innovative advancements that make fixing crooked teeth easier, but some differences exist in their products and services. Here is a side-by-side Invisalign vs. Smile Direct Club comparison to help you decide which aligner is best for you.
#1 – Manufacturer
Invisalign's parent company is called Align Technology, the largest and longest-standing manufacturer of clear aligners in the U.S. With decades of clear alignment experience, Invisalign has a proven track record and experience in this industry.
On the other hand, Smile Direct Club is actually in a manufacturing partnership with Align Technology for a long time. But in 2019, Smile Direct Club announced that it would start producing its aligners in-house, which is expected to reduce the cost of its treatment further.
#2 – Material
Invisalign vs. Smile Direct Club use different materials in their plastic aligners. Invisalign uses SmartTrack material, which is a combination of polyurethane and copolymer. This allows Invisalign to create "more predictable, controlled tooth movements," according to the company.
On the other hand, Smile Direct Club uses aligners that are also BPA-free to move teeth into the desired position. The company claims a "proprietary soft, medium, and firm aligner plastic progression" that helps gradually shift the teeth.
#3 – Design
Invisalign trays are trimmed in a scalloped way that offers more flexibility and comfort when worn. This makes them easier to wear for longer periods of time. In addition, Invisalign's Clear Aligners have rounded edges that make them comfortable on the gum line.
Smile Direct Club aligners, however, are designed to be flexible while providing enough strength to move the teeth. Their aligners are designed to overlap the gums for added power.
#4 – Cases they Treat
When comparing Invisalign vs. Smile Direct Club, Invisalign is considered to be the better option when it comes to more complex cases. Smile Direct Club is recommended for mild-to-moderate cases only. Invisalign is preferred for crowded teeth, overbite, and open bite cases.
#5 – Technology
Looking at Invisalign vs. Smile Direct Club, both companies use digital scanning to create the aligners. Invisalign has its own iTero scanner, considered the most accurate and precise digital scanning system in the market. They also use a custom software called ClinCheck, which is responsible for the algorithm of teeth movement.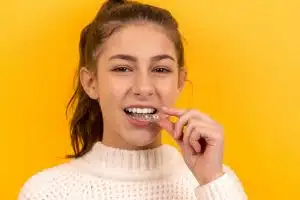 #6 – Cost
Generally speaking, no orthodontic treatment is cheap. This is because aligners are custom-made per patient and require professional supervision. When comparing Invisalign vs. Smile Direct Club, Invisalign is usually more expensive than Smile Direct Club, but this is mostly because it's an in-office treatment. Smile Direct Club, on the other hand, offers a remote treatment option that is more affordable than Invisalign.
#7 – Convenience
With Invisalign, you will undergo treatment all under the care of an orthodontist. First, you will go through an assessment and mapping of your teeth. Then Invisalign will create a series of custom-made aligners that you need to wear for two weeks each. You will visit the orthodontist every 6-8 weeks for aligner changes during treatment.
Smile Direct Club, on the other hand, is a convenient remote option. All you need to do is take an impression of your teeth, send it to the company, and they will review your case. You will receive aligners in the mail, and you can track your progress with the company's Smile Guides. Their doctors and orthodontists are available 24/7 to answer questions and provide guidance.
Plus, Smile Direct Club offers a nighttime-only option which you may not find with Invisalign. This option is ideal for those who don't want to wear aligners during the day but still want to straighten their teeth.
However, you need to remember that self-treatment comes with risks. In the case of Invisalign, your orthodontist can check your teeth for any irregularities throughout the treatment. With Smile Direct Club, you won't have the same level of monitoring and access to a professional.
Consult North Shore Orthodontics for Your Clear Aligner Treatment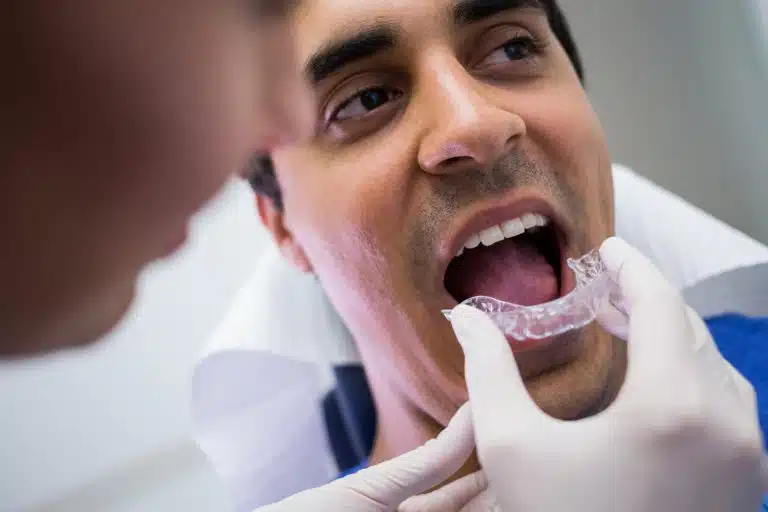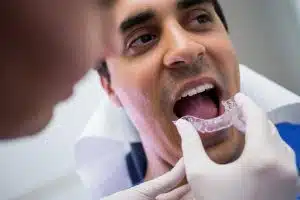 If you are from Smithtown, NY, and require Invisalign or an alternative clear aligner treatment, North Shore Orthodontics is here to help. We are a certified Invisalign provider with years of experience helping our patients achieve their desired smiles.
Dr. Craig Smith and our caring dental team have provided quality, affordable orthodontic treatment to children, teens, and adults for over 20 years in Smithtown, NY, and its surrounding communities. We have the training and experience to identify your dental needs and recommend the best options for Invisalign treatment in Smithtown NY.
North Shore Orthodontics offers both Invisalign Full and Invisalign Teen. We also offer all types of braces, from traditional metal braces to clear ceramic ones and AcceleDent for accelerated orthodontic treatment.
Your clear aligner journey begins with a consultation! Schedule an appointment with us today, and you will be one step closer to your desired smile. Let us help you achieve the perfect teeth of your dreams in no time!