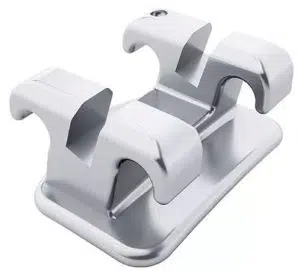 Traditional Metal Braces
Traditional metal braces are the most common type of braces and are more comfortable today than ever before. Made of high-grade stainless steel, metal braces straighten your teeth using metal brackets and archwires. With metal braces, you have the option of adding colored elastics (rubber bands) for a more unique and colorful smile.
Our office uses American Orthodontics Mini Brackets, which has a low profile design that minimizes the size of brackets while reducing wire bends.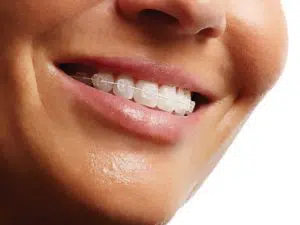 Ceramic Braces
Ceramic braces are made of clear materials and are therefore less visible on your teeth than metal braces. For this reason, ceramic braces are used mainly on older teenagers and adult patients who have cosmetic concerns. While they are visually less prominent, they do require more attention to oral hygiene because ceramic braces are larger and more brittle than their metal counterparts. For these reasons, ceramic braces tend to be used more on upper front teeth than on lower teeth.
At our office, we carry American Orthodontics Radiance brackets. They are proven to be the clearest of all ceramic braces and are made from pure grown sapphire. These brackets also resist stains, which means they'll stay brilliant all throughout treatment!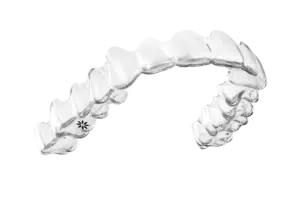 Invisalign
North Shore Orthodontics is proud to be a Gold Plus Invisalign provider. Invisalign is the clear alternative to braces, using 3-D graphics to create customized clear aligners. These aligners are removable, so there are no limitations on what you can eat and drink during treatment. Invisalign is also a more comfortable option than braces, as there are no brackets or wires to rub against the sides of your mouth.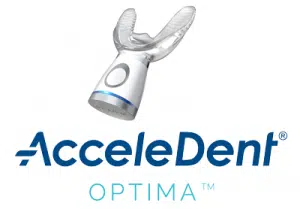 AcceleDent
Did you know that you can speed up your treatment time? Dr. Smith offers AcceleDent Optima, a unique device that is used in conjunction with your orthodontic treatment. This simple and easy to use tool applies calibrated vibrations that transmit through the roots of your teeth into your bone. This vibration increases cellular activity and makes your treatment progress up to 50% faster while reducing discomfort. Ask our office for more details!